2020.02.12 Wednesday
Upcoming: solo show 'CHAOSMOS / カオスモス' at CAPSULE Gallery, Tokyo
CHAOSMOS / カオスモス
Masayuki Kawai / 河合 政之

2020年2月22日(土) - 3月22日(日)
Feb. 22 (Sat) - Mar. 22 (Sun), 2020

at CAPSULE GALLERY:
東京都世田谷区池尻2-7-12 B1F
B1F 2-7-12 Ikejiri, Setagaya-ku, Tokyo, Japan
Tel.03-6413-8055
http://capsule-gallery.jp

開廊 : 土・日12:00-19:00 | 休廊: 月- 金
Open only Sat and Sun 12:00 - 19:00 | closed on Mon-Fri

オープニングレセプション:2/22 18:30 - 20:30
Opening Reception: 2/22 18:30 - 20:30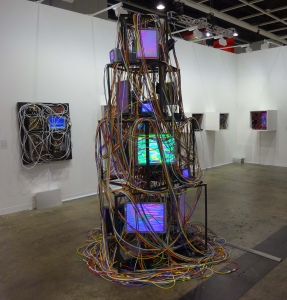 Installation view at ART BASEL Hong Kong 2018. Courtesy of MORI YU GALLERY.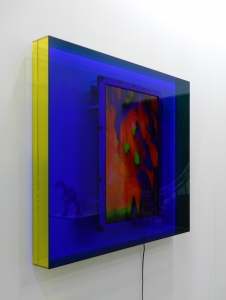 Trans-flux No4 Square, 2019, plexiglass, video monitor with media player, video data/60min. Courtesy of MORI YU GALLERY.

哲学的で独創的な作風が、ART BASEL Hong Kong 2018 や TAIPEI DANGDAI 2020 など、海外を中心に高い評価を受けているヴィデオ・アーティスト、河合政之の個展。当展覧会では、カオスとコスモスの融合を意味する《カオスモス》というテーマのもと、近年河合が取り組んできたアナログな映像機材を用いた〈ヴィデオ・フィードバック〉による作品シリーズを展示します。
美学の理論家でもある河合は、シグナルを優先してノイズを排除するデジタルに対し、あらゆる変化や可能性にオープンな〈アナログ〉をこそヴィデオの本質としてとらえています。そうしたアナログな回路を用いた河合の作品は、そのひとつひとつが一種の〈生命体〉であり、一瞬も同じイメージが繰り返されることなく無限に変幻し続けます。それはこの有限な世界から無限のカオスに向けて開かれたコスモス、つまり〈カオスモス〉であり、見る者を永遠に転変するイメージの悦楽へと導いていきます。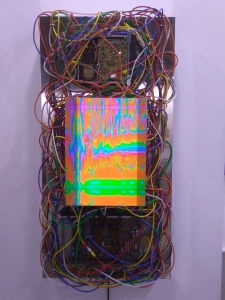 Video Feedback Configuration No.10 Mirrored 1, 2019, video processors, video monitor, cables, stainless steel, wood. Courtesy of MORI YU GALLERY.
Masayuki Kawai creates video works in a unique and philosophical style that is gaining reputation abroad in such settings as ART BASEL Hong Kong 2018 and TAIPEI DANGDAI 2020 in recent years. In this solo exhibition, under the theme of CHAOSMOS - the fusion of chaos and cosmos - we exhibit an exemplary series of his works that use 'video feedback' created by analog devices.
Kawai, also a theorist, understands the 'analog' as the essence of video which is subject to every chance and change, opposing it to the digital which formulaically utilizes signal while excluding noise. Each of Kawai's works, by using analog circuits, is a kind of living system, changing infinitely and never repeating an instant. They elicit the pleasure of eternally mutating images that appear as cosmos in the finite world yet are open to infinite chaos: chaosmos.